AVAILABLE BENGAL & EGYPTIAN MAU KITTENS
Updated 11/23/15
Please scroll down until you see the breed you are interested in.
IF YOU ARE SHOPPING ONLINE FOR A KITTEN, PLEASE CLICK HERE TO READ THE "SCAM ALERT" FOR YOUR PROTECTION!
ATTENTION: I DO NOT EVER ADVERTISE KITTENS ON ANY ONLINE CLASSIFIED AD WEBSITES. SCAMMERS HAVE STOLEN MY WATERMARKED AND COPYRIGHTED PHOTOS AND ARE USING THEM IN ONLINE ADS PRETENDING TO BE AFFILIATED WITH ME. I AM NOT AFFILIATED WITH ANY ONLINE CLASSIFIED ADS. No one else is authorized to sell kittens on my behalf. IF YOU SEE MY WATERMARKED KITTEN PHOTOS WITH WILDABOUTBENGALS.COM ON THE PHOTO on any other website, IT IS A STOLEN PHOTO AND FRAUDULENT AD!!! The only place Wildtrax advertises kittens is on THIS WEBPAGE ONLY or my personal facebook page (Tracy Wilson)! My only email is tracy@wildaboutbengals.com and only phone number is 501-230-4072. Any other email or phone number claiming to be me is a fraud!

THE QUICKEST WAY TO GET IN TOUCH WITH ME IS BY EMAIL TRACY@WILDABOUTBENGALS.COM

Available Egyptian Maus
These are the last Egyptian Maus available until spring of 2016! Reserve yours now before they are gone! NO SHIPPING

Available Bengal Kittens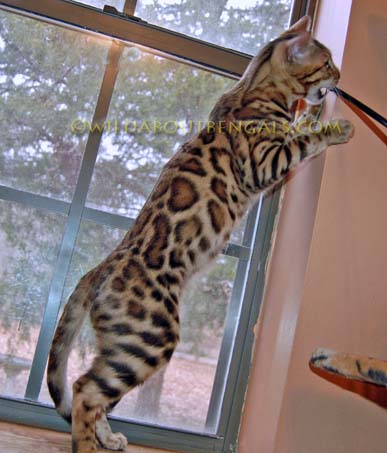 *WE DO HAVE A WAITING LIST* for Bengal kittens, who will get first pick of upcoming kittens.
Cherokee-Tristan litter born 11/7/15-Waiting list members will be starting reservation process soon. (wait list full for this litter)
Next bengal litters due after first of year, get on the wait list now for upcoming litters.
Please email me if you would like to get on the waiting list for an upcoming kitten.
Proud to be a member of the Bengals Illustrated
Reputable Breeder Program.

Available Savannah Kittens
Wild Trax is no longer offering Savannahs.
Please visit http://www.savannahcat.com/public/index.php for a listing of Savannah breeders by state and country.

All of our kittens are lovingly hand raised underfoot in our home to ensure the most well adjusted, happy, healthy pet for you. Our kittens are well socialized with people and other animals and have super sweet temperaments. All of our kittens are TICA registered. Our kittens are ready to go to their new homes after they reach 10 to 12 weeks of age. Before they go to a new home, they will be litter box trained, weaned onto solid food, socialized, up to date on vaccinations and deworming for their age, health guarantee and written contract as well as support from us for the lifetime of the cat in case you ever have any questions during your cat's lifetime. Please view our Adoption page for more detailed info about adopting one of our kittens. We do not ship kittens at all.
We typically keep a waiting list for kittens, people on the waiting list get first pick of kittens. If you don't find what you are looking for available now, please get on the waiting list for a future kitten.
See ADORABLE videos of our cats and kittens, CLICK HERE